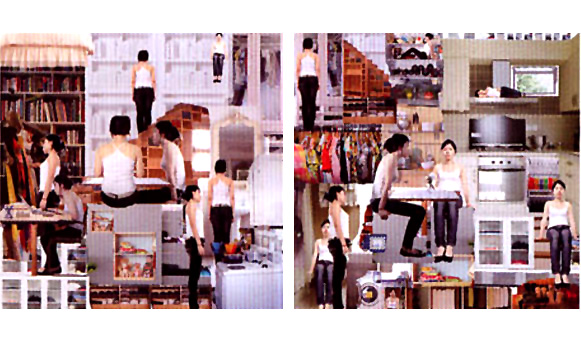 德默营造支持中国年轻原创设计师:复旦视觉艺术学院陆文卿、吴筱菁同学共同设计的《压缩公寓》获得"CREATIVE M50 2009"年度德默营造提名奖。该设计实验性地尝试在一个3x3x3m的空间中容纳一个公寓的基本功能:包括起居、卧室、厨房和卫生间。
DAtrans supports the young design talent: the architectural work 'Compressed Apartment' by Lu Wenqing and Wu Xiaoqing's from SIVA of Fudan University were nominated to win the Creative M50 2009 prize by DAtrans. The team's proposal uses a 3x3x3m space to accommodate an apartment's basic features including sleeping, kitchen, toilet and living space.
获奖评语:空间的抵抗
喜欢这个作品所传达出对当下生活状况的关注,它折射出对个人日常生活空间的体验,这种感受很现场也很私密。作者展开概念的方式也很特别,她们从设定一个边界条件开始,考察一个人生活,真正所需要的最小物理空间到底有多大?也许这种人为的、呈现防御性的极端的空间组织方式,有意无意地在反讽,那种越大越好的侵略式的美学趣味。
Jury's Commentary: Spatial Resistance
The work shows the sensitive attention to the current living conditions. It reflects the individual's everyday spatial experience that is both a shared experience and a private feeling. The way the designers have expanded their concept is also unique. They began by stipulating the limitations and observed a person's life in order to define the minimum size of the possible living space. Perhaps this kind of artificial spatial composition, showing their defensiveness, extends to its extreme and could be ironizing the aggressive aesthetic tastes, 'bigger is better', intentionally.