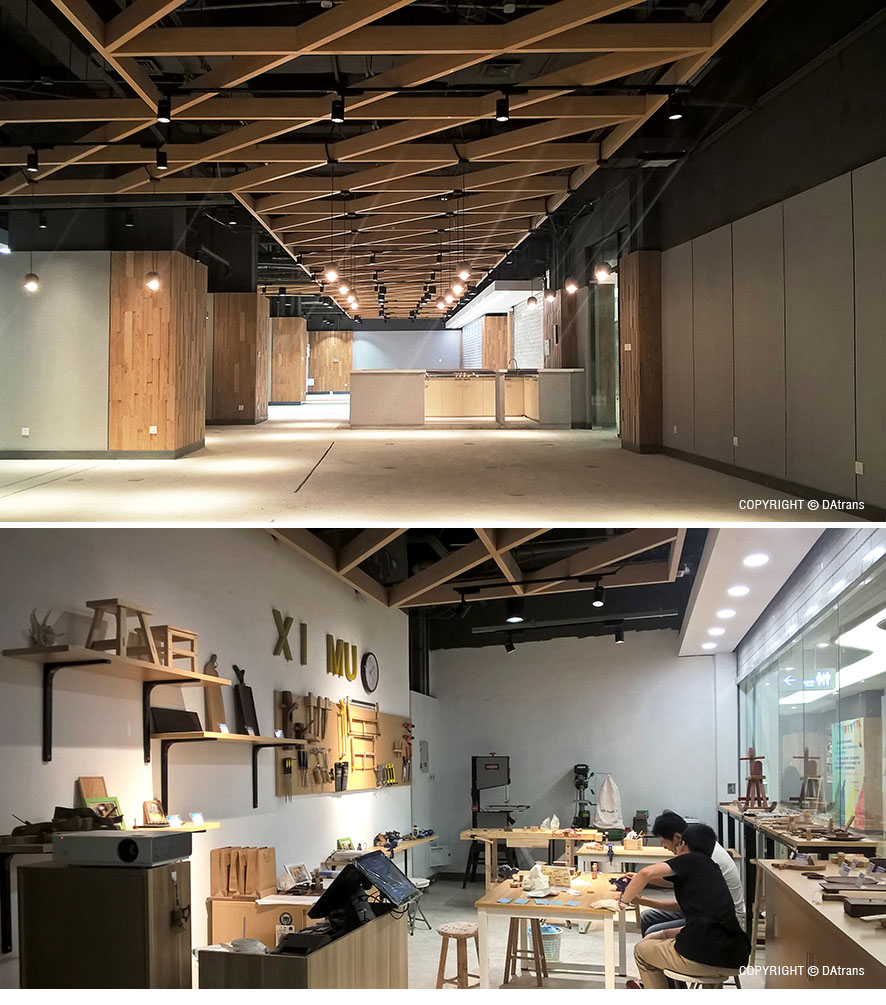 天工之城南京手工生活汇位于古都南京江宁新区百家湖21世纪太阳城三楼,建筑面积1400平方米,容纳了14家左右涵盖纸艺、皮具、木工、插花、儿童美术和金工等手工店坊。由天工之城、上海创意产业协会手工DIY促进中心和日本地慧地产策划(CCD)、实施和运营,德默营造应邀负责整体空间设计。
2016年底,天工之城南京手工生活汇项目完工并正式营业。这也是天工之城和德默营造继十年前在宁波慈城合作后的再度携手。
我们在设计中希望通过引入"城"的概念,在建筑内部演绎广场、街坊和院落的城市空间主题,使鼓励分享和倡导交流的DIY精神得到最佳阐释,并由此形成活跃和开放的空间氛围。
设计过程中的挑战是,如何将个性化手工店铺纳入到统一的整体主题中去,而又不丧失其自身的特色?对此我们从形式主题和材料运用两方面给出了解决方案。采用体现手作精神的木质编织肌理,起伏的天花带来统一化的空间识别;木制肌理包裹的柱子局部延伸天花,象"树木"一样共同组合成"树林"的温暖意象。同时,选用自然、朴素和含蓄的材料,形成中性的灰色背景以突显手工店铺的个性,而外部立面则以白色、通透的金属隔断建立起重复韵律的一体感。铺面间尽量形成连续开放、错落有致的立体展示体系。整个空间在可视范围内,通过均匀的照度形成柔和亲切的手工工作和展示氛围。
衷心希望天工之城南京手工生活汇的开业能为古都南京带来一个新型的的结合手工、艺术、音乐、咖啡和展览的的体验、学习和交流的文创空间,满足日益增长的家庭休闲生活需求。
The Project Handcraft's City Experience Center, Nanjing is completed and opened in the end of 2016.
The 1,400sqm space, located in the Baijiahu, Jiangning district of the city Nanjing, contains 14 handcraft's retail-workshops like paper art, leather, woodworking, ikebana, kids's DIY and goldsmith etc., and a special DIY learning center that provides the programs for DIY's fans' display, promotion and exchange will also integrated.
DAtrans was invited to the space design by Handcraft's City Group with Shanghai Creative Industry Association, and CCD Japan, a continuality cooperation that has started since almost 10 years in Ningbo Cicheng,
By borrowing the concept of "CITY", the urban special types like square, neighborhood and courtyard are interpreted. The composition of the active and transparent space will encourage sharing and communication under the spirit of DIY.
The real challenge for the design is, how to integrate the individual handcraft's workshop into the whole pattern without despairing of the own identity? We try to provide the total solution through the two issues of form and material: The integrated special identity is reflected by the ceiling with the diagonal wooden weaving texture that could implicate the essence of handcraft clearly. The original columns are wrapped by the wooden skin with the patchwork pattern, somewhere the skin extends to the ceiling. All of the elements compose the image of a warm "forest"; meanwhile, the natural and implied materials build up the general neutral background in order to highlight the unique characters of every unit. The outer curtain, made in white metal panels, forms the translucent continuity and entire rhythmus. All workshops are able to be linked directly each other and the abundant handworks are displayed by the 3D variable way. The entire space could be overviewed easily and attracts the visitors immersing the experience program by the sensible and lightly illumination.
We wish the opening of this space will bring Nanjing a new typology of cultural space combined with the program of experience, learning and communication and match the increasing social requirement from the family's leisure.